Bulk WhatsApp Sender – No.1 WhatsApp Blasting
WhatsApp Bulk Sender provide you transform your marketing and support to the next level.
How to send bulk messages on WhatsApp
Step 1: Create a WhatsApp Business Account To use WhatsApp Business, you need to create a separate account for your business. You can download the WhatsApp Business app from the Google Play Store or the Apple App Store and follow the instructions to create your account.
Step 2: Get WhatsApp API access SignUp on Online Live Support and get full WhatsApp API access
Step 3: Upload CSV and Send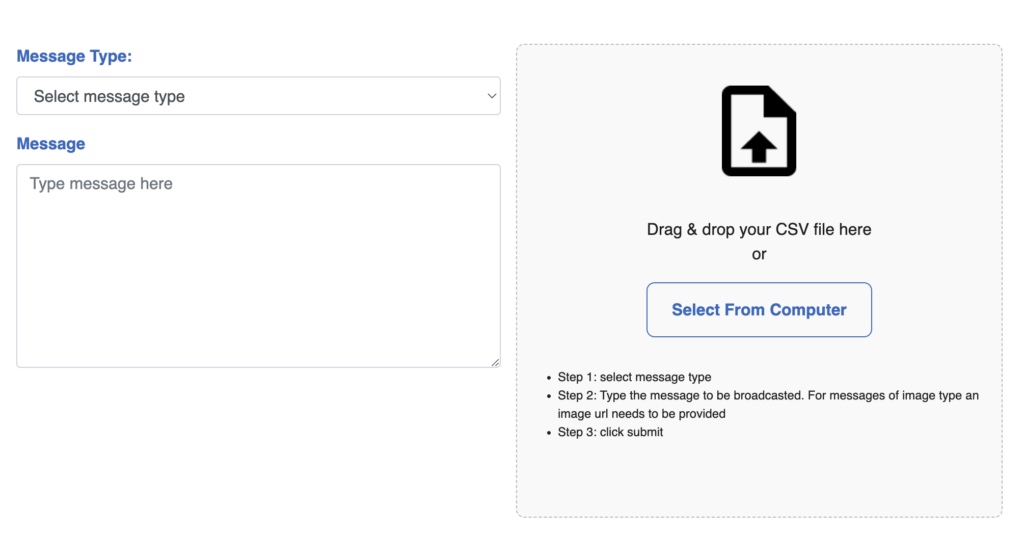 It's Fast It's Easy It's Free
Legality of WhatsApp bulk sender
WhatsApp has strict policies and terms of service that users must adhere to. WhatsApp bulk sender is not an authorized feature of WhatsApp, and using unauthorized tools or software to send bulk messages may lead to account suspension or even legal consequences. It's important to use authorized methods and tools for sending bulk messages on WhatsApp.
Best WhatsApp bulk message sender tools
There are several WhatsApp bulk message sender tools available in the market. Some of the top tools include:
WappBulk Contacts Filter
Q Sender
Each tool has unique features and benefits, such as message customization, scheduling, and message tracking.
It's Fast It's Easy It's Free
How to send bulk WhatsApp messages without getting banned
To avoid getting banned by WhatsApp, it's important to follow best practices when sending bulk messages. Here are some tips and guidelines to help you:
Avoid sending messages to contacts who have not opted in to receive messages from you.
Use a verified WhatsApp Business Account for business-related messaging.
Do not send the same message repeatedly to the same contact.
Avoid using third-party tools or software that violate WhatsApp's terms of service.
How to send bulk messages on WhatsApp for business
You can use Online Live Support to send bulk messages on WhatsApp to communicate with your customers.
Here are some strategies and techniques for using WhatsApp bulk sender for business purposes:
Personalize messages to each customer, using their name or other relevant details.
Use message templates to save time and effort when sending similar messages to multiple customers.
Use Online Live Support WhatsApp Business API for more advanced features and customization options.
Some benefits that WhatsApp bulk sender software can give you
Here are some of the benefits of using WhatsApp as a business tool to interact with customers.
Send notification
With the help of Online Live Support WhatsApp bulk message sender, you can send timely notifications to the customer about shipping, order bookings, delivery, shipping, cancellation, rejection, etc.
You can alert your customers about the payment due date and update them about orders.
You can send informational messages about their order details. You can send the informational text with standard codes so that only the real person can get access to it.
With bulk sender, you can also send personalized messages to customers in bulk to increase the engagement rate.
Customer support
Customer support is one of the main essentials of a successful business. And you can offer high-quality customer support with the help of chatbots. The chatbots will send automated replies to the audience in the form of greetings, welcome messages, and answers to FAQs, and many more. You can program the chatbots any way you want.
Additionally, the support staff will be able to reply to the customer effectively and solve the problem faster.
With the help of the chatbots feature, the support staff will be able to find the root cause of the problem and also keep the conversation alive as well.
Customers will get support until they need satisfactory answers, and it will improve their trust in the company. With two-way communication, the companies and customers will stay in touch with each other.
Affordable and efficient
The bulk WhatsApp software will make the business more efficient and productive. The bulk message plan won't cost you too much, and when you look at its benefits, it is worth it.
You can choose the plan and use the tools with WhatsApp for better results. WhatsApp can be very beneficial for the business if they use it in a proper way.
Better product discovery
You can help the customers to find the right product or service by giving them the related information about the products and services they have an interest in.
You can send high-quality videos, images, documents, audio files so that customers will get a better idea about the product.
Send a link that will take the customer directly to the product, and with this strategy, you will be able to get high conversion rates and increase sales.
The easy and faster purchasing method will motive the customer to purchase more from the business, and it will bring more customers to your business and boost your business revenue.
Conclusion
WhatsApp bulk sender can be a valuable tool for both personal and business use. However, it's important to use authorized methods and tools and to follow best practices to avoid getting banned.
Feedback from Our Customers
Frequently Asked Questions (FAQs)
How to Send Bulk Sender on WhatsApp
Sign up for a free trial account
Connect your WhatsApp Business number to Online Live Support
Upload CSV and send bulk messages or use APIs with your system
WhatsApp Bulk Sender Free?
We are charging fix price $39.99 / month.
Is there an API for WhatsApp?
Yes, you can use Online Live Support WhatsApp APIs with your system
How to create API for WhatsApp?
Sign up for a free trial account
Connect your WhatsApp Business number to Online Live Support
Integrate Online Live Support APIs with your system
How much does WhatsApp Web API cost?
Its only $39.99 USD per month fixed price with unlimited messages and users.
How do I automate WhatsApp messages for free?
Yes, you can use Online Live Support WhatsApp APIs with your system to automate the messages
Can WhatsApp send messages automatically?
Yes, businesses can use the WhatsApp Business API to send automated messages to customers.
What is WhatsApp CRM integration?
WhatsApp CRM integration is the process of integrating WhatsApp into your customer relationship management (CRM) system to manage customer conversations and interactions.